ABOUT THE JOURNAL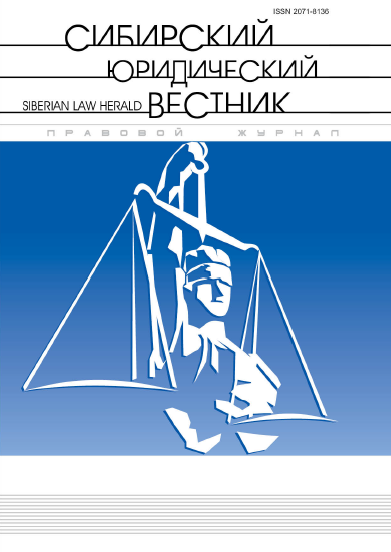 Founder:
the Federal State-Funded Educational Institution of Higher Education «The Irkutsk State University»
Publisher:
Law Institute of Irkutsk State University
Publication published
since 1998
Periodicity:
Four times
annually
Circulation:
500 copies
.
Certificate of Registration Media number PI FS77-78091
, number issued by the Federal Service for Supervision of Communications, Information Technologies and Mass Media.
In 2010 the journal «Siberian Law Herald» entered the
List of the leading peer-reviewed scientific journals and editions
, in which should be published basic scientific results of theses in candidacy for a scientific degree of doctor and candidate of sciences in perpetuity (the Decision of the Presidium of the Higher Attestation Commission of the Ministry of Education and Science, 19 February 2010).
The journal publishes papers in the following scientific specialties:
5.1.1. Theoretical and historical legal sciences
5.1.2. Public Law (State Law) Sciences
5.1.3. Private law (civilistic) sciences
5.1.4. Criminal Law Sciences
5.1.5. International legal sciences
The journal is a scientific edition publishes topical articles on a wide range of problems of legal knowledge.
The goal of the journal is to contribute to the development of national jurisprudence.
The aims of the journal are: the development of scientific discussion in the field of law, providing readers with current legal information, familiarizing the readers with the achievements of legal science, raising the level of legal culture and legal literacy, raising the professionalism of specialists in the field of jurisprudence.
The target audience of the journal is representatives of the professional legal community: researchers, faculty members of higher educational institutions, graduate students, practicing lawyers.
The principles of the editorial policy of the journal are: compliance with copyright and other legal requirements, as well as publishing ethics, ensuring the scientific nature of publications, mandatory preliminary review of incoming materials, ensuring the high quality of published materials.
The leading areas of focus of publications reflected in the following rubrics:
Issues of the Theory and History of the State and Law
Issues of Constitutional, Municipal, Administrative and Financial Law
Issues of Private Law
Issues of Criminal, Criminal-Executive Law and Criminology
Issues of Legal Proceedings and Criminalistics
Issues of International and Comparative Law
Reviews, scientific life, tribune of young researcher etc.